Best practices to get the most from your Black Friday marketing
We've been looking at some best practices to get the most from your Black Friday marketing for this year's event on Friday, November 26 and Cyber Monday on November 29th.
If you've been ignoring Black Friday thinking it's just another American import or an e-commerce trend, then you could be missing out. Spending online on Black Friday in 2020 climbed 22% year on year to a record $9 billion, according to Adobe Analytics and independent businesses selling on Amazon surpassed $4.8 billion in worldwide sales from Black Friday through Cyber Monday in 2020, a 60% rise on the previous year.
Social Media is driving Black Friday marketing
Last year over the Thanksgiving Weekend in America, social media drove one out of every 10 visits to retail websites according to Adobe Analytics. This was a 17% increase with organic search increasing revenue share at 11% growth.
While paid search continues to dominate in revenue share and visit share (25% and 24% respectively), direct traffic for both isn't too far behind at 21% and 22%. Some brands decided to start things early last year and kicked off their offers in October.
In America Best Buy ran with "This year, we're doing Black Friday all season long" and the hashtag #BlackNovember popped up frequently in Black Friday marketing. You can make use of this increased awareness by setting your Black Friday campaigns to build up buzz ahead of the day itself.
With a month to go, here's some of our best practice tips.
"Forewarned, forearmed; to be prepared is half the victory." Miguel de Cervantes
Make it obvious what your offers are
Black Friday marketing isn't something that's restricted to just brands with physical products to sell. Any business can find an offer to promote which will encourage traffic to their website and increase awareness.
If you offer a service, provide a % discount for anyone signing up, or look at whether you can do a 2 for 1 Black Friday deal if people sign up for a specific length of time. Look at discounts on weekend breaks if you're in the hotel or B&B industry, money back offers if you're in the used car business or other industries with physical goods. The opportunities are endless if you have a bit of imagination.
Also think about the type of campaign you're running. 
Awareness

campaigns to get your brand on people's lips, talking about your offers and adding hype in the build up to Black Friday.

Consideration

campaigns to talk to those already in your marketplace, helping drive them to your website, an important tool to use for sending people down the funnel into purchase. These campaigns should focus on providing value or something the consumer wants.

Conversion

campaigns should use retargeting to get people to the final purchase, this is your smallest audience and can be used to run ads at your existing customers or for offers aimed at bringing previous customers back, focus on good service and quality.
Use your time to prepare wisely
Look at the type of Black Friday marketing campaign you want to run.
Who do you want to target

– who will respond best, what audience is being targeted on which platform;

What works for your brand

– examine past campaigns and see what works for your audience, not necessarily specifically related to Black Friday, then adapt it;

Use specific platform capabilities

– polls and conversation on Twitter, stories on Facebook/Instagram, viral video on TikTok etc

Trial out new formats

– Instagram has story polls (which can be done in paid as well) with Yes/No (or other two answer options). Use these ahead of your Black Friday deals to ask questions and get results and use these learnings in your strategy i.e. money off or % deals.
Create a sense of urgency, use countdown ads to let people know that there will be Black Friday offerings, jump on the bandwagon and drive up the anticipation for what's going to be coming on the day itself.
Make your Black Friday marketing platform specific
Facebook/Instagram have a huge audience, showcase your products here and  use different ad formats including Stories, as well as different methods of ad placement. Use your Instagram influencers if you have them, get the word out early on your offers.
Remember that on Instagram Stories you can't include copy text except contained within the images or videos themselves, so plan carefully what you want to include on your visual creatives.
Twitter is for conversation, use hashtags and conversation topics to make sure you're in the trends. Use different post types to drive awareness, use Twitter Polls to get a feel for what people are looking for in their Black Friday deals.
Pinterest is where people go to plan, to look for ideas. They will already be searching for Christmas and other festive holiday gifts so use your Boards to highlight what Black Friday offers you'll be giving.
Tiktok – don't ignore this rapidly rising social media platform, it's engaging and immersive and trends capture millions of views. It's video only so make TikToks, not direct adverts, to create that buzz and the immersive experience.
Tailor your marketing strategies to the unique features offered by the platform. 
Make your Black Friday marketing offers clear and attractive
There's going to be lots of advertising noise around Black Friday which will make it even harder to stand out so here's how you can do that with your visuals: 
Make sure Black Friday is included in a large, eye-catching – and easy to read – font;

Make it easy to understand the offer;

Use striking visuals, animations, or elements which add a pop of colour to draw attention to the offer;

Be concise, you don't want people to have to click "Read More" etc to find out your offer.
Be aware of the potential for click fraud
This is also a good time to get a handle on your click fraud prevention strategy and add click fraud software to protect your campaigns from invalid and fraudulent clicks and impressions.
You'll especially want to do this now as we often see a spike in fraudulent bot clicks leading up to and during Black Friday.
In 2004 Google's CFO George Reyes said that fraud was the biggest threat to the internet economy and don't be mistaken for thinking that it doesn't affect you. 
Whether you're running Black Friday marketing for an enterprise or SME, or a digital marketing agency working on behalf of multiple clients, advertising fraud is eating away at your budget.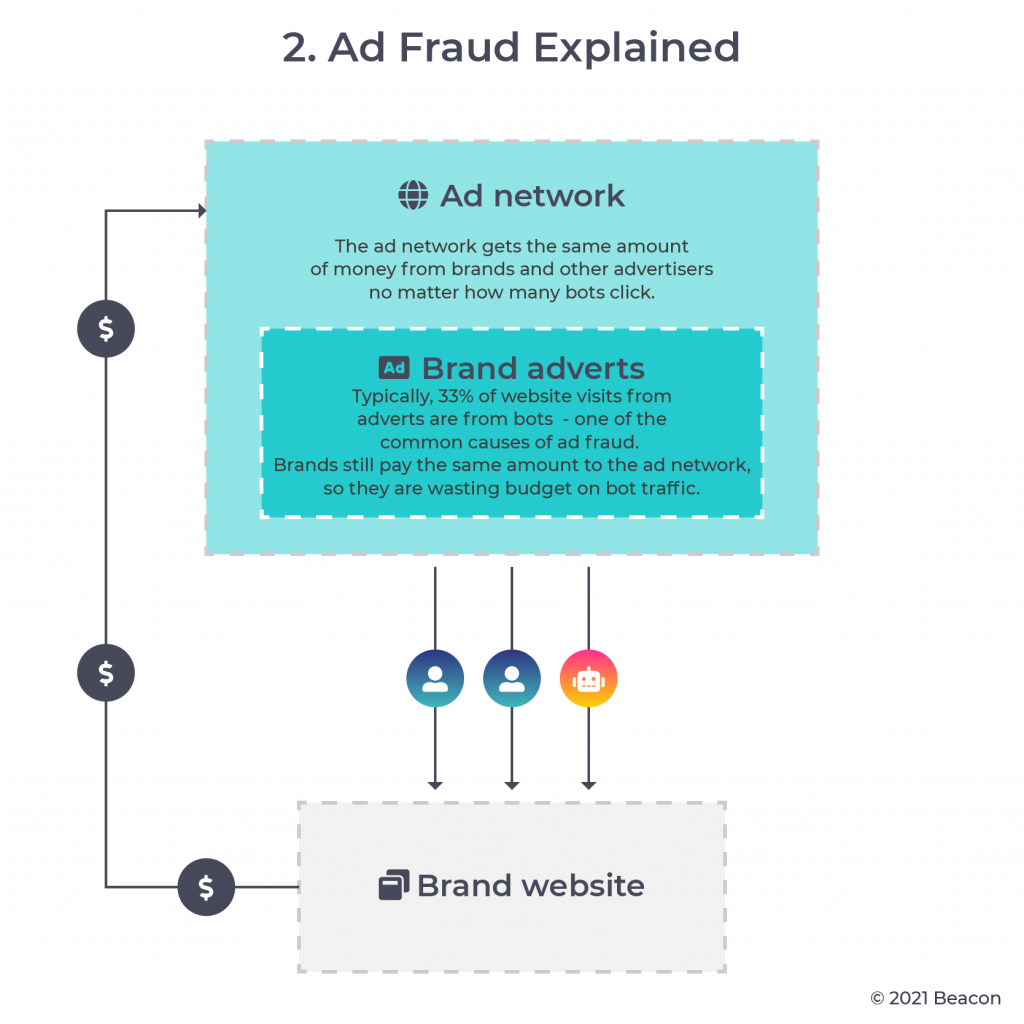 While ad fraud is more generally associated with banner ads, video ads and in-app ads, click fraud is an issue on both paid search and social, search marketing, mobile advertising and conversion fraud with affiliate marketing.
According to Juniper Research, In 2017, digital advertisers lost $39 million per day to ad fraud.
It's predicted that advertisers' loss to ad fraud will reach $100 billion per year by 2023.
Protect against ad fraud on your Black Friday marketing
Veracity client campaign data shines a light on the true cost of ad fraud on Facebook campaigns. 

This example from a Veracity client, (during the trial period prior to blocking bots with Veracity), shows the volume of non-human clicks on their campaigns.
Bot traffic accounted for 28% of clicks

More than £9k was lost to ad fraud
Last year a number of our clients saw huge spikes in bot traffic on their accounts in the run up to Black Friday – which would have led to a doubling of ad spend for one client if they hadn't already had Veracity's click fraud protection in place.

https://qz.com/307204/google-admits-that-advertisers-wasted-their-money-on-more-than-half-of-internet-ads
Veracity's groundbreaking click fraud protection ensures that when a bot is detected, the device fingerprint is added to their unique bot protection database. This database is used to block bot impressions (for CPM) and clicks (for CPC) on Facebook campaigns. 
Veracity uses this to build regularly updated, custom bot exclusion lists to give you the maximum reduction in ad fraud fraud over time.