Data-driven attribution in Google analytics simplified
Attribution is a hot topic, there's no denying that. Brands are always looking to maximise their online advertising and the fact that businesses now invest so heavily into digital marketing platforms makes understanding their performance even more important.
If you're a Google Analytics 4 (GA4) user, you may have received a recent email from Google, letting you know that your properties are eligible for "cross-channel data-driven attribution". But what does this mean? And how can your business use data-driven attribution to improve performance?
What is attribution?
Advertisers want to measure and optimise their media spend across marketing channels. But this is a challenge as customers can interact with a brand across multiple touchpoints before taking a conversion action, like making a purchase.
Attribution modelling is a way of understanding the performance of digital marketing campaigns. The purpose of attribution is to assign credit to the various touchpoints a customer has interacted with on their path to conversion.
By doing so, you gain insight into how your marketing mix is working. Not just from a last-click point of view, but also more holistically into how your advertising is making an impact throughout the customer journey.
Before we look at data-driven attribution, it's important to understand what the default option has been in the past and how that compares with a data-driven approach.
The Last Non-Direct Click attribution model
In Google's Universal Analytics (GA3), there are several provided attribution models, but the default for all non-multi-channel funnel reports is the Last Non-Direct Click model, a default that cannot be changed.
This has been the standard attribution model for many years within Google Analytics, but it has its flaws. Last Non-Direct Click means that Google Analytics will try to classify a direct session to a channel other than Direct.
For example, let's assume we have a conversion path containing four touchpoints, Organic Search, Email, Paid Search and Direct.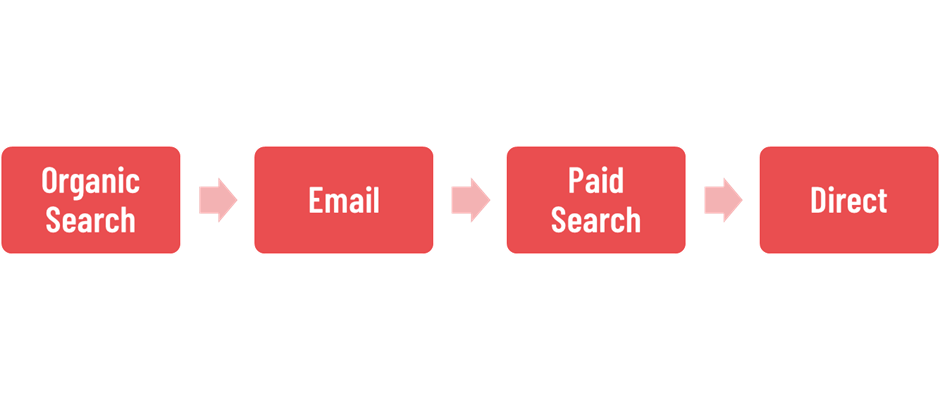 Under true last interaction attribution, credit would be given to the Direct channel: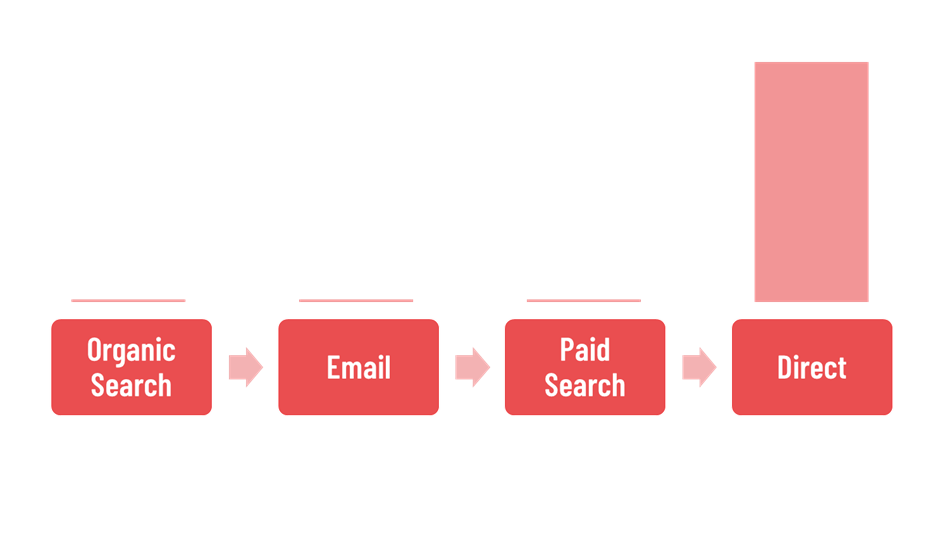 But under Last Non-Direct Click attribution, credit is given to Paid Search: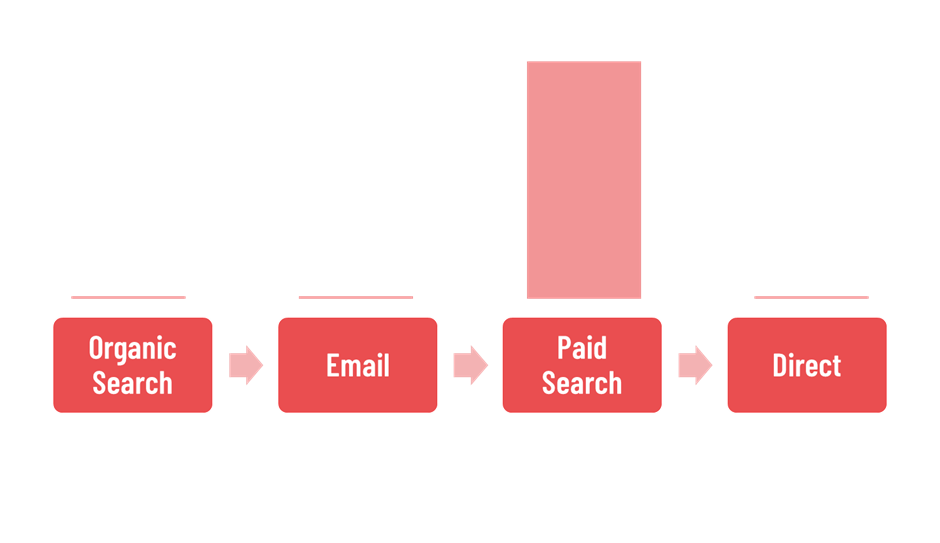 This means the last non-direct click model leads to traffic re-distribution in your Google Analytics account. Customers may have converted in a direct session, but the credit is redistributed to the other named channels.
One positive is that this leads to less traffic being labelled as Direct, and in turn, this can give you more actionable data. Because it prioritises the longer-term effects of marketing campaigns.
But, while it increases the amount of traffic in named sources, the data can be misleading. The slight shift in credit, away from Direct, devalues the channel while increasing the value of others. You also don't necessarily know if your ad was really the last click or if the customer just came back directly and the attribution redistributed the traffic!
Helpfully, you can understand the impact this has on your campaigns by using the Model Comparison Tool within Google Analytics.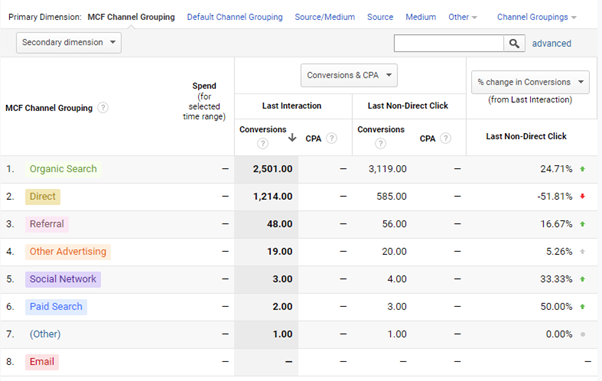 So, in most cases, all credit for a conversion goes to the last known traffic source. But that is likely one of many touchpoints that the customer interacted with and, therefore, isn't the only channel responsible for driving that conversion.
Data-Driven Attribution (DDA)
This is a challenge that can be solved by using Data-Driven Attribution modelling. DDA uses algorithmic machine learning to assign credit through the customer journey.
With Data-Driven Attribution, businesses receive more actionable information about their marketing campaigns; giving a broader view of which channels help guide customers to conversion.
This helps marketers make better decisions around where to invest their resources and improve campaign performance throughout the funnel.
DDA is a black-box solution. Google doesn't reveal what goes into the algorithm that's powering the machine learning. While that is a potential drawback, it is still likely a better option when trying to understand the impact of multiple touchpoints in the customer journey.
Therefore, DDA modelling is preferred if you're looking to measure impact across multiple channels.
Getting started: Universal Analytics (GA3)
If your business is running Universal Analytics on the free tier, you're out of luck. Data-Driven Attribution modelling is only available to premium Google Analytics users (i.e. Google Analytics 360).
This has historically been an issue, due to the sheer amount of investment required to upgrade to a GA360 account. And it's effectively prevented smaller brands from being able to utilise this method of attribution. Google has been fixing this more recently, though, so there will be more talk on that later!
Assuming you have a GA360 account, there are some minimum requirements, too. As a guideline, you need 400 conversions per conversion type with a path length of 2+ interactions, plus 10,000 conversion paths (about 10,000 users) over the last 28 days.
To continue to use DDA, this threshold needs to be consistently met to feed the algorithm with enough information to learn and analyse. A separate model is generated for each conversion type, so not all conversions may be eligible for DDA modelling.
To start using DDA, you can access the modelling by looking at the Model Explorer Tool. The modelling refreshes once a week, updating the conversion credit weighting of the marketing channels in the default grouping.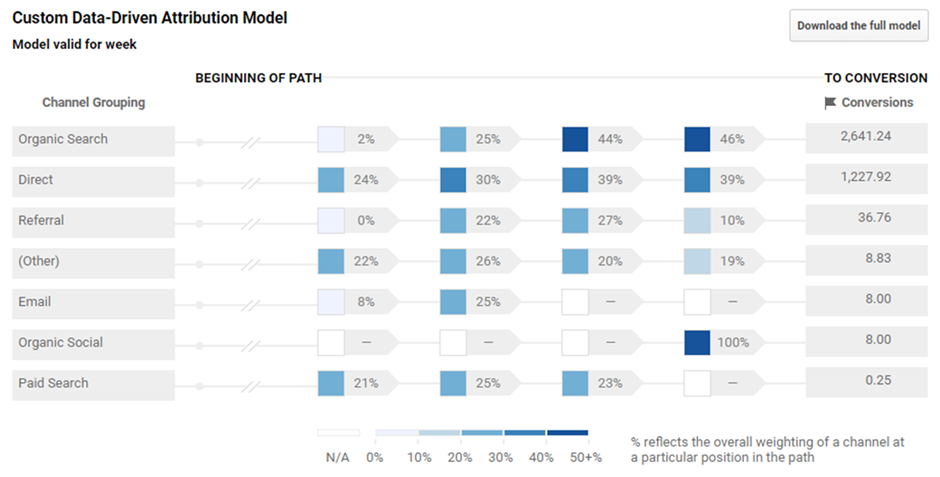 In Universal Analytics, DDA assigns credit to the last four touchpoints on the conversion journey, using these touchpoints to do its modelling. This report reflects the overall weighting of each channel at different points in the path.
Getting started: Google Analytics 4
With the announcement that all GA4 properties will be available with DDA modelling, this is a huge step forward. Now both free tier and GA360 users can perform multi-channel analysis through DDA. Not only that, but in GA4 the modelling has been improved.
With the previous iteration of Google Analytics, we were limited to the last four touchpoints. Whereas in GA4, this number of touchpoints has been increased significantly; ensuring all marketing efforts are given credit. Minimum data requirements have also been reduced, allowing more businesses to take advantage of better attribution.
There are two key reports in GA4 when getting started with DDA. The first is the model comparison tool, found in the advertising reports sections. This allows you to compare the different attribution models available in GA4.
The model comparison report delivers a table format of conversions and revenue, which allows you to compare the different attribution models in GA4. It has similar usage to the model comparison tool found in GA3.
The second report, also found in the advertising section, is the conversion paths report. This provides a visualisation of early, mid and late touchpoints, depicting the customer journey.

To break the terminology down, early touchpoints represents the first 25% in a path. Mid touchpoints represent the middle 50%, and late touchpoints are the final 25% in the path.
This report shows the credit given to each, so you can better understand which channels initiate, assist and close conversions. There's also a helpful table showing the conversion paths, like that found in the Multi-Channel Funnels report in GA3.
The future is data-driven
Google announced late last year that it's moving away from last-click attribution. And as part of that announcement, it outlined the plan to switch the default method of attribution from last-click, to data-driven for Google Ads conversions.
In the evolving digital landscape, privacy has been a key theme over the last few years. Government regulation such as the EU's GDPR, and companies like Apple tackling customer privacy head-on in their products, are forcing a change in measurement and attribution.
Moving forwards, machine learning will be a critical tool for marketers. Because it will be used to fill the gaps caused by such intervention while allowing you to preserve measurement in a world when cookies and other identifiers are not present.
The expectation is that as privacy controls get tighter within browsers, last-click attribution will fall increasingly short of the advertiser's expectations. On the other hand, data-driven attribution allows you to understand the contribution of each touchpoint in a conversion while respecting user privacy.
With cross-channel data-driven attribution now available to all, there's never been a better time to consider setting up a GA4 account alongside your existing analytics setup.
Author
George Watson – Data and Analytics Lead @ connective3