Improving Due Diligence in Digital Marketing
Digital marketing can be a black art to many people but there are certain things that every Due Diligence team must look at seriously.
Even seasoned practitioners often find it difficult to keep pace with the changing developments in digital marketing, however there are some areas that should be addressed and evidenced without fail before any investment consideration.
Fraud Waste
In 2004 Google's CFO George Reyes said that fraud is the biggest threat to internet economy. Sadly, almost 20 years on, ad fraud is so big that it's now overtaken credit card fraud in terms of losses.
Global losses from ad fraud in 2020 were $35billion. It's estimated that this will increase to a cost of more than $50 billion a year, by 2025 (Wfanet.org), while according to Marketingdive: "Global consumer products companies waste roughly $50 billion, or more than half, of their collective investments in digital marketing and trade spending."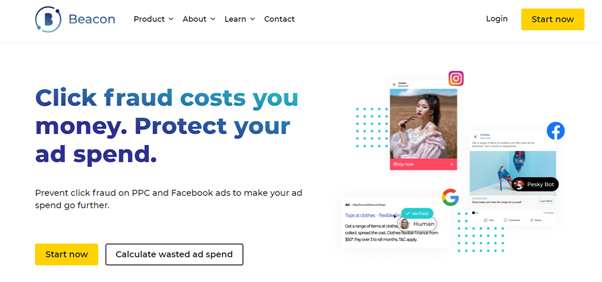 What is ad fraud?
Ad Fraud takes many forms, including:
Malicious bots

– bots that spam, click ads, impersonate humans and carry out attacks.

Domain spoofing

– faking a website name or email domain to fool users.

Location fraud

– falsifying location data to trick advert vendors of the 'users' location.

Pixel stuffing

– cramming an entire ad into a one pixel space and charging the full amount.

Ad stacking

– overlaying multiple ads at once and charging for fraudulent impressions.

Cookie stuffing

– dropping multiple affiliate cookies onto a user's browsers to claim commission.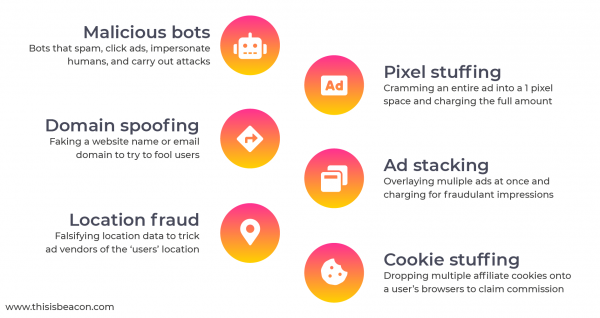 Staggeringly, it's still estimated that less than 60 percent of web traffic is human, as Max Read covered in a 2018 article for the New York Intelligencer and the advertiser-funded Programmatic Supply Chain Transparency Study found that only a fraction (12%) of 267 million ad impressions, paid for by brands to be served on publishers' websites, could be accounted for or "matched". 
Writing in an article for Entrepreneur.com, SmartyAds CEO Ivan Guzenko also claimed that up to 70% of marketing budgets could be lost to bots.
And, for a period of time in 2013, according to an article in the New York Times back in 2017, a full half of YouTube traffic was 'bots masquerading as people'. 
This portion was so high that employees feared an inflection point after which YouTube's systems for detecting fraudulent traffic would begin to regard bot traffic as real and human traffic as fake. They called this hypothetical event "the Inversion".
"So much ad-spend is wasted these days and the situation appears to be getting worse not better. Veracity helps Digital marketers find the waste, the gaps and the inefficiencies in their digital marketing campaigns," says Veracity's Chief Executive Officer Nigel Bridges.
What has this to do with due diligence?
At its heart, if an organisation is spending money on digital advertising, it's highly likely that it will be wasting a significant proportion of it, whether it's aware of it or not, to bots clicking on ads rather than human interactions. For investors, this is something that needs to  be taken into consideration by the due diligence team.
If this waste can be recovered and redeployed from bots to human clicks, that will be more 'human-eyeballs-per-$' and consequently better results (more sales, downloads, signups, or whatever the end campaign goal is).
If the company you're considering investing in is using digital advertising, use your due diligence team to check very carefully that they are using a reputable anti-ad-fraud software that works, (such as Veracity) in their search/social advertising campaigns.
And please don't rely on ad agencies or the ad channel they're using for the statistics. They have no vested interest in revealing the levels of fraud waste. 
Aram Zucker-Scharff, Engineering Lead for Privacy & Security Compliance at The Washington Post, recently pointed out (in a Tweet thread on how the commonly used online metrics are inherently fake, an 'Emperor's New Clothes' if you will) that adtech companies and marketing agencies are aware of the situation – but failing to act on it.
Ineffective digital ad spend can be addressed
Digital advertising broadly splits into two key areas:
Banner (Programmatic) advertising
This is all highly automated, with 'bidding engines' and 'auction software' constantly placing adverts onto websites based on user preferences, location, usage, and many other criteria.
It is rife with fraud and inefficiencies. As Jamie Bartlett, a well respected industry commentator, observed recently:
"Consider the irony: malware robots watch ads, monitored by automatic tracking software that tailors each advertising message to suit the malbots' automated habits, in a human-free feedback loop of ever-narrowing 'personalisation'. Nothing of value is created, but billions of dollars are made". 
And, of course, those billions of dollars are coming from the pocket of the advertiser!
Be very careful to use due diligence and ask the right questions and look for evidence of effectiveness.
Search/Social advertising
This is advertising on platforms such as Meta (Facebook, Instagram), Google, Bing, LinkedIn, etc.
Recent statistics show that organisations could be wasting 20% – 50% of their ad budget through bot clicks (see the Entrepreneur article above), waste that could be prevented and the ad budget used more effectively.
Be sure to look closely at that budget, press for facts and data that is independent of the agencies and ad channels involved.
For both of the disciplines above, use a tool that can demonstrate independent ROI across every channel (like Veracity).
False User Numbers
This is an area that demands very close scrutiny.
For example, it is well documented that the number of Facebook users globally is overstated. This can, unfortunately, be the same for other organisations that value themselves by the number of 'users' or 'downloads' or 'installs'.
For example, in the world of app downloads it can be the case that at least half of all installs are done by machine and not human. 
In a 2019 MachineAdverting study that analysed more than 150m app downloads driven by advertisements, researchers found 49 percent were fraudulent. Other studies and surveys have found up to 95% of app downloads haven't been carried out by humans – a massive overstatement of user numbers.
Therefore, if your valuation depends to any extent on the number of 'online users' or 'online/app downloads', be very careful to audit whether they are real humans in the first place and, if they are, how much they engage once they are 'customers'.  
It is very easy to fake these numbers and, even unwittingly, to believe that there are more users than there actually are.
In summary
In the world of digital due diligence, be very careful to 'look under the hood', use independent data and press for the facts. Just because 'the system says', does not mean it's the reality. It usually isn't.
About Veracity
Get started with Veracity by taking advantage of a free traffic audit on your paid campaigns. 
With click fraud detection and mitigation across search and social, Veracity feeds other parts of the Martech stack with better quality data, to enable improved analytics, decision-making and results.
For this digital agency client, Veracity detected bot activity on the campaigns at an average of 28% and this reduced to 16% bot activity just two weeks into using Veracity following the traffic audit. 
That's 12% more humans engaging with their ads, resulting in an uplift in conversions and 25% increase in cost per visitor.