What is a good bounce rate for PPC?
What is a good bounce rate for PPC? As an online advertiser, you've no doubt asked yourself this question before, done a Google search and not found a particularly helpful answer.
That's because it's not that clear-cut; however, we will outline the ways that you can evaluate your PPC campaign bounce rate, whether you're e-commerce or B2B.
What qualifies as a bounce?
Let's start with a definition of bounce rate. A bounce is someone who only visits one page. Even if they stayed on the page for 30 minutes or more, if they didn't go anywhere else on your website, they're counted as a bounce in Google Analytics.
Your bounce rate is then worked out from the number of total visitors versus those who leave under the qualifying criterion. If you have 100 visitors and 10 leave without visiting other pages, you have a 10% bounce rate.
Why people bounce
There are many reasons why a potential visitor may not convert, leading to a high bounce rate for PPC.
Slow page loading speed
Poor page design and layout 
No clear CTA or too many different CTA's
Long  forms with unnecessary fields
Mismatch of messaging between ad copy and landing page 
No persuasive copy on the landing page copy
Poor quality traffic 
Our recent blog from Phil Rothwell includes a number of ideas for improving your PPC campaigns so you may find that useful.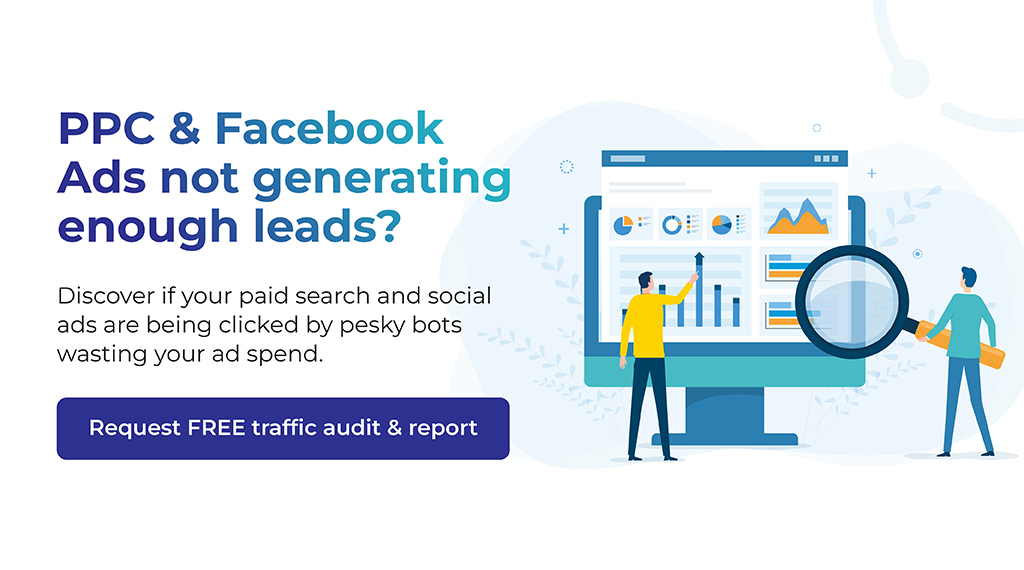 What is a good bounce rate for PPC?
According to LittleData, which surveyed 1,495 sites in May 2020, the average bounce rate from Google Ads on a desktop device was 43.5%. 
Brad Geddes, writing on Search Engine Land, uses the following percentages:
20% or less is amazing;
20-30% is fantastic;
40-60% is fairly common;
60-70% is common for keywords that are a bit ambiguous (TV Sets, Laptop);
70% or higher – something needs to be fixed.
But, if you're looking at bounce rate alone, you're missing the real story about how your paid search visitors are behaving. 
The answer will depend on your website and whether you are directing campaign visitors to a landing page that's designed for conversion on that page or to multiple pages to checkout. 
If you want them to convert on the landing page, then a high bounce rate is OK.
To understand the bounce rate for your PPC campaigns, you can segment the campaigns.
Segment campaigns
By using separate goals and evaluation metrics for Search versus Display campaigns, you start to analyse campaigns in a more meaningful way.
Generally, paid search will usually have a lower bounce rate than your display ad traffic, this is because the campaigns are capturing users who are actively looking for what you're selling or promoting.
In this example below, from MetricTheory, the advertiser has an overall PPC bounce rate of 44%. However, when the company segmented the data by campaign type, the bounce rate for Google search was very low, at around 23%, but the rate for display campaigns was higher.
This is common with visitors coming via the Google Display Network as they are often browsing different sites and may not be ready to buy when they click on an ad. Higher bounce rates on Display can also include people who've clicked by mistake on an advert. 
Visitors coming from a Google Search ad are specifically looking for a solution to their problem and are more likely to engage with your landing page content and convert.
The shopping referral bounce rate, while high, may also not be an issue, as people who've landed on a product page may be either adding to their basket and checking out or going back to Google to look at the other search results.
Device usage is important
Bounce rates for PPC can also be affected by what device is being used. Mobile bounce rates are often higher compared against desktop/laptop or tablets because mobile users are often looking at content in bite-sized chunks.
As a result, websites with high volumes of mobile users often have a higher bounce rate, slower sites speeds or difficult mobile navigation can drive them even higher so make sure you optimise your site for mobile browsing – or use a different version altogether for mobile e-commerce.
High bounce rates can hide ad fraud
The other time you should be aware of high bounce rates is as a sign you may be a victim of click fraud which occurs when a PPC ad is clicked on by a bot created with malicious intent.  Click fraud first came to light in 2005, when several major court cases put it in the spotlight. 
Click fraud has continued to grow, and is now bigger in revenue terms than credit card fraud. Individual cases and the collective impact of click fraud is shocking. 
A spike in bounce rate for paid clicks could be an indicator of click fraud. Other signs include traffic without engagement metrics and differences in clicks being reported.
Stewart Boutcher, CTO & Data Lead at Veracity adds: "The most obvious symptom of ad fraud is inflated clicks as reported in your advertising account versus website visits reported in your analytics. There shouldn't be a huge disparity between clicks and website hits."
Carrying out a weekly referrer review to see where your website traffic is coming from is a great way to identify one-offs or unusual traffic spikes with oddly high bounce rates.
Auditing your ad campaigns and analysing the data for unusual drops in online engagement or spikes in metrics is also helpful for assessing if your ad spend is making the right impact – and reaching actual people, not bots.
In conclusion
While bounce rates may not be a primary metric for paid search advertisers, they are one which should be considered if campaigns aren't performing as expected.
When bounce rates do matter, such as in e-commerce with a 3-page conversion to product purchase, when someone bounces off the landing page, you lose a potential sale.
For every percentage decrease in the bounce, you add more visitors to the conversion funnel.
Get started with Veracity
Start your marketing campaign journey by having the best available data. At Veracity we've been champions of transparent marketing data since our foundation. With click fraud detection and mitigation across search and social, Veracity feeds other parts of the Martech stack with better quality data, to enable improved analytics, decision-making and results.
NOTE: Updated March 2022.