Sustainability is a critical 2022 trend for advertisers
Sustainability is going to be a critical 2022 trend for advertisers as consumers' passion and belief in the need for change grows stronger.
What is sustainable marketing?
Essentially sustainable marketing is something which focuses on messages which support environmentally friendly or green products, or which highlights actions brands are taking to not prioritise 'profit over planet'.
If you've ever spent more on something because you know it was locally sourced, or it's 100% recyclable or made from reused plastics or other waste materials, you've experienced sustainable marketing.
Sustainability is development that meets the needs of present generations without compromising the needs of future generations: World Council on Economic Development (WCED)
The 'father of modern marketing' Philip Kotler adapts this definition of sustainability. He said: "The concept of sustainable marketing holds that an organisation should meet the needs of its present consumers without compromising the ability of future generations to fulfil their own needs."
Why is sustainability in marketing important?
A recent report from the World Federation of Advertisers – Marketing and Sustainability: Closing the Gaps – has highlighted the importance of marketers ability to be a force for change. The potential for the advertising and marketing profession for its activity to be seen as part of the solution is unfortunately lagging behind.
The study was run in partnership with Project 17, the communications unit centred on the United Nations' Global Goals and behavioural change experts, BVA Nudge Unit.
Stephan Loerke, CEO of the WFA, said: "Sustainability is the mother of all challenges. We need to be humble, listen, educate ourselves and prove to the world that the creativity and innovation of our industry can make a positive difference."
The survey findings are based on in-depth qualitative Interviews with 13 global Chief Marketing Officers as well as a quantitative survey run in conjunction with National Advertiser Associations with responses from more than 650 marketers in 34 markets around the world, including a wide mix of geographies, company sizes and categories.
Drawing on these sources, this report looks at:
Consumer perceptions and expectations;

Marketers' perceptions of consumer expectations;

Marketers' perceptions of their own organisations;

The gap between sustainability and marketing;

How to close the gaps.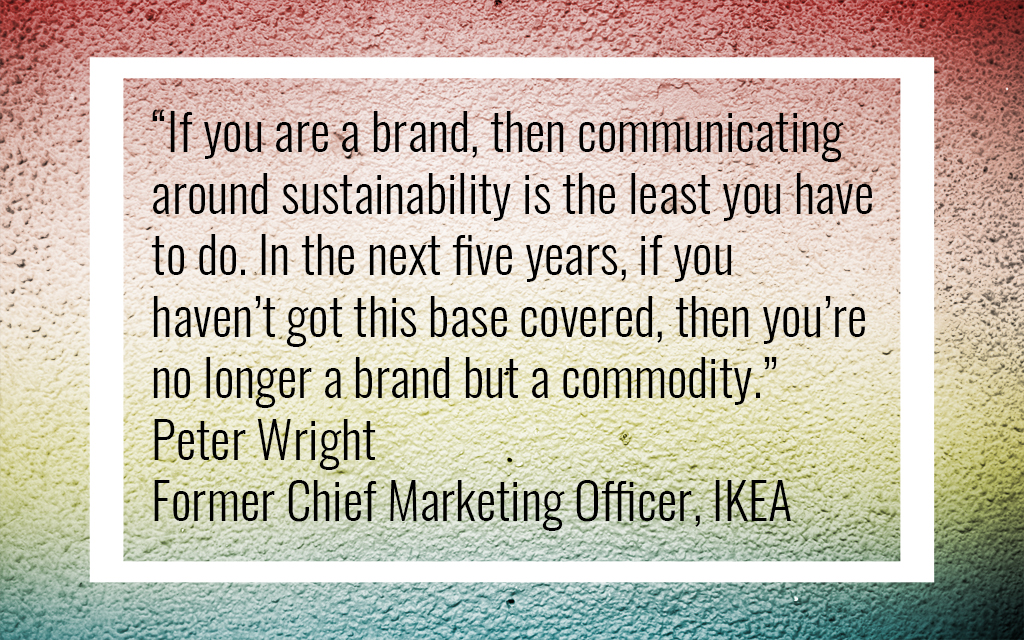 The DMA is already researching sustainability
Scott Logie, Chair of the Customer Engagement Committee at the Data & Marketing Association (DMA) who is also Customer Engagement Director at data and insight agency REaD Group, builds on this concept that customer decision-making will be driven by sustainability. 
"There is a lot of research, including the DMA's 'Customer Engagement: Consumer Mindset in Acquisition' report, which shows that diversity and sustainability are becoming more important to consumers when deciding which brands to buy from. 
"With a higher profile after COP26, younger audiences are increasingly engaging with green concerns, while consumers are demanding that representation is recognised in advertising."
Sustainability represents a crucial message for businesses to impart on their customers and this is expected to ramp up more this year as various Government-led net-zero challenges start to kick in.
Economy-wide plan for British business
The UK Net Zero Strategy sets out a comprehensive economy-wide plan for how British businesses and consumers will be supported in making the transition to clean energy and green technology.
£500 million has been earmarked for innovation projects which will develop the green technologies of the future, bringing the total funding for net zero research and innovation to at least £1.5b.

It is hoped this will support pioneering ideas and technologies to decarbonise homes, industries, land and power.
Business and Energy Secretary Kwasi Kwarteng said: "There is a global race to develop new green technology, kick-start new industries and attract private investment. The countries that capture the benefits of this global green industrial revolution will enjoy unrivalled growth and prosperity for decades to come – and it's our job to ensure the UK is fighting fit."
Creative production and marketing solutions company CLICKON has shared survey data which shows more than two-thirds of leaders in advertising (73% UK / 67% US) consider sustainable advertising to be important to their business.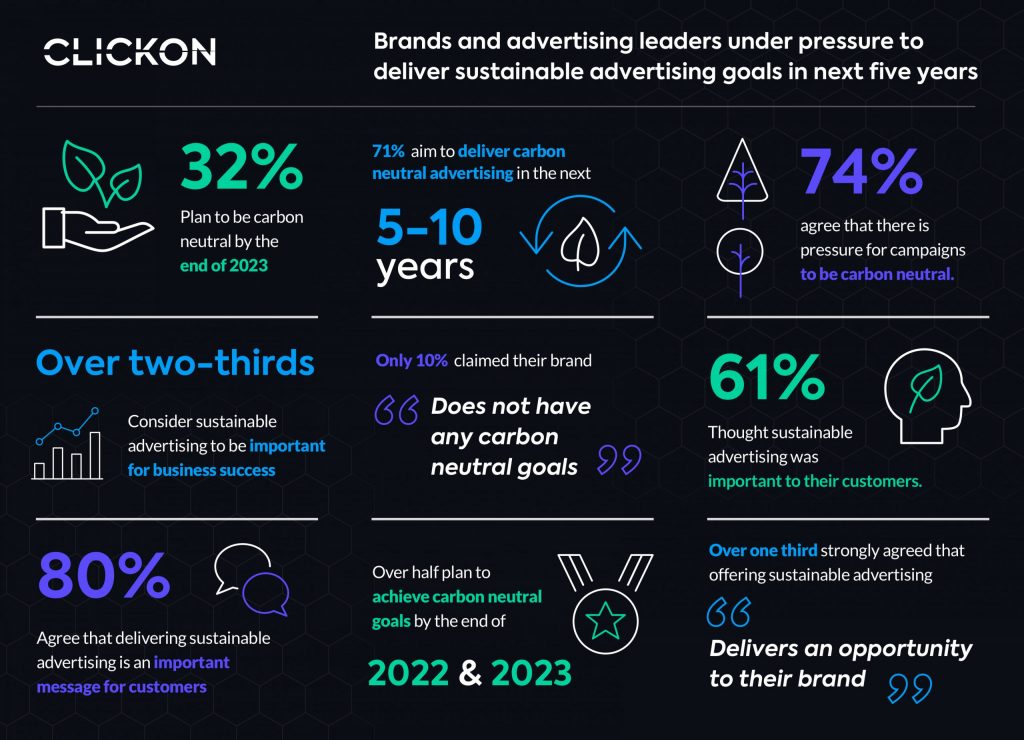 Sustainability is critical for both B2B and B2C marketers
Paul MacKenzie-Cummins, managing director of PR company Clearly, predicts that the sustainability drive equally affects B2B as it does B2C.
"In B2B marketing, the growing demand for data and greater transparency to enable the better management and disclosure of organisational ESG (environmental, social, and governance initiatives will become a key priority for business leaders in 2022 and beyond.
"Formal non-financial reporting of everything from carbon emissions and choice of suppliers based on their own commitment to sustainability and social impact, to diversity and inclusion throughout the organisation, will be under the microscope. Non-financial reporting will become just as, if not more, important than financial performance reporting. There will be no hiding from this; consumer and client demand will necessitate it," he added.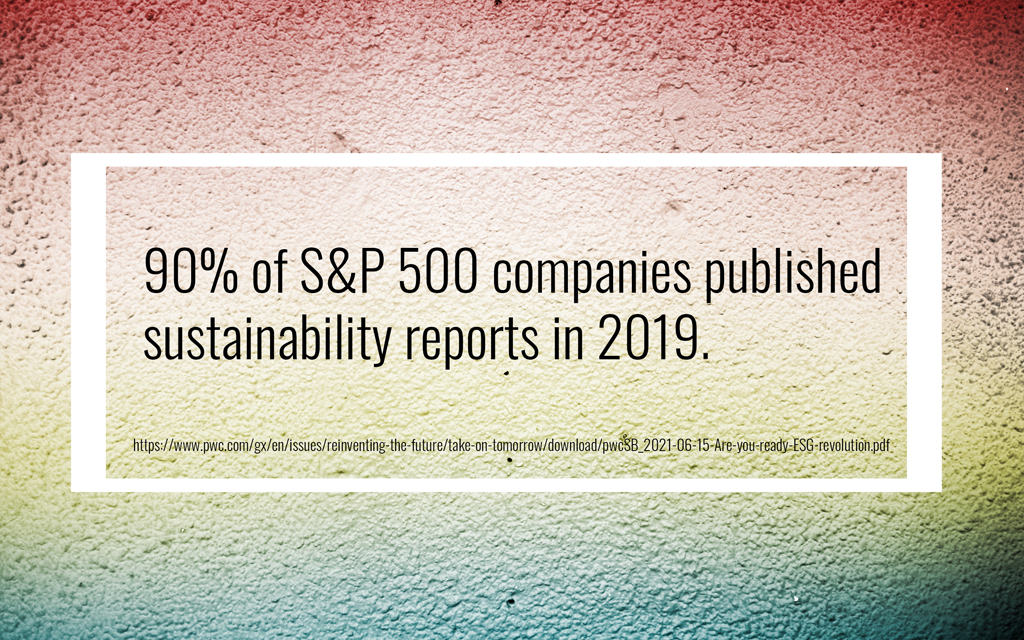 The Advertising Standards Authority (ASA) has also promised to "go further" to "crack down on misleading and socially irresponsible environmental advertising" in future.
It has unveiled three actions it plans to take to tackle misleading environmental claims and warned it would be "shining a brighter regulatory spotlight" on the matter moving forward.
Consumers are driving sustainability changes
Several studies which have come out during the Coronavirus lockdown have suggested consumers are sending a clear message to marketers about sustainability and the pandemic has only strengthened people's convictions.
A global study by Boston Consulting Group in July 2020 found 70% of respondents said they were more aware now than before COVID-19 that human activity was threatening the climate and that the degradation of the environment in turn threatens humans.
The survey also found people wanted to see aggressive action, with more than two-thirds saying economic recovery plans should make environmental issues a priority. And 40% reported that they intended to adopt more sustainable behaviour in the future.
Brands can focus on championing change
Brands should focus on championing change rather than "clever marketing". Today's consumers want to feel a connection with their favourite brands that is based on shared ideals.
There's a role for brands to be more accountable and to drive change from the outside in. For many years Nike has been carrying out research to tap into greater sustainability. The brand has also then provided that information via open source to the rest of the apparel industry – helping to drive real changes.
Brands have huge social reach, in 2019 a joint project from digital agency Huge and business media brand Campaign found that they had more influence than the US government and political leaders at that moment. 
Generation Z is just one of the markets where the impact of their buying decisions is a major focus with 68% of them choosing eco-friendly products.
Jennifer Frommer, SVP for Partnerships & Creative Content at Columbia Records, part of the Sony Music Group, believes that in ten years' time, sustainability practises will be commonplace. 
"Gen Z and millennials will be leading companies and it will be commonplace for them, as they've grown up with it being front and centre. I think there will be sustainability across the board and it will just become what happens in businesses. I think change is going to come."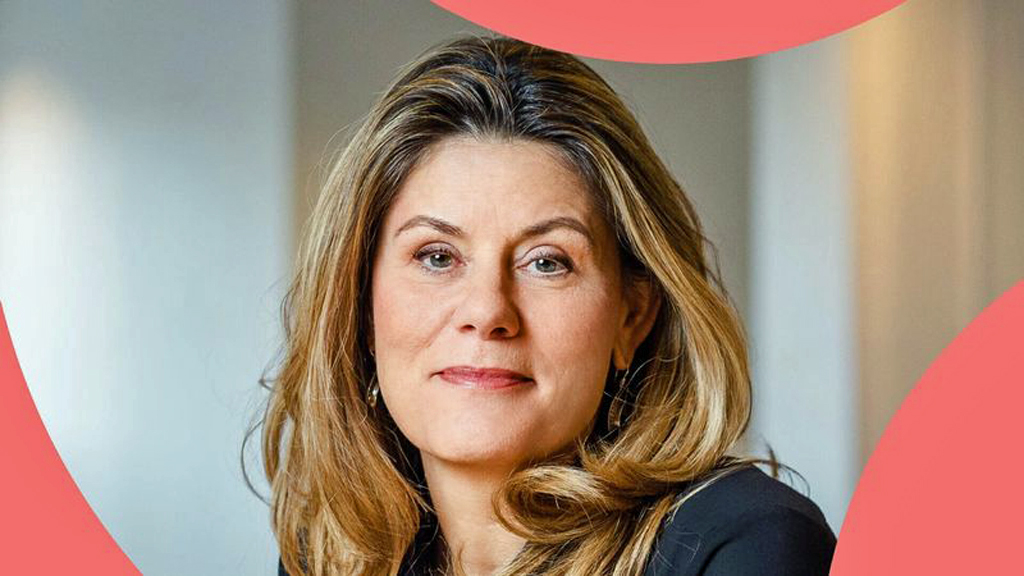 Conny Braams, Chief Digital & Marketing Officer at Unilever, (pictured above) said: "People expect brands to do a lot more. By authentically aligning a brand's purpose to the issues that really matter to people, the problems that need solving in society, marketers have an opportunity to take action to drive positive change."
What steps can marketers take to make their brands more sustainable?
Use green web hosting services
Climate change also applies to digital marketing, with the shocking figure that the Internet accounts for around 3.8% of global greenhouse gas emissions – on a par with the aviation industry.
Websites are prime drivers of energy usage, the services hosting your brand's website are constantly on but luckily there are options here for a more sustainable solution.
More and more eco-aware tech companies are offsetting their energy usage to go carbon neutral. Google has done a lot to decarbonise its data centres and claims that its cloud services produce zero net carbon emissions. 
And the largest cloud computing provider out there, Amazon, has promised to achieve the same by 2040 through the use of wind and solar farms.
As well as switching web hosting to more greener options, brands can also go carbon-neutral with the companies they choose to partner with.
For many small businesses, improving their own supply chain – and carrying out sustainability improvements in their own offices – can be a step on the way to improving their environmental credentials.
Remove non-human malicious web traffic
The effect on your energy expenditure is the same whether it's a human visitor or a bot but with at least 40% of all web traffic estimated to be non-human, it's worth filtering out the non-essential bots from your website.
When it comes to environmental impact, it makes no difference whether it's a 'good' or 'bad' bot that's visiting your website.
Malicious bots not only damage your brand through a multitude of different ways, but they're contributing to your carbon omissions and they're something that can be dealt with.
Veracity Trust Network's Website Threat Protection is a machine-learning led bot detection solution that protects your website from automated attacks by removing non-human bots from the equation.
The latest release will also be able to show you the carbon omissions you've saved by blocking bots from your website.
Look at carbon offsets
Businesses can also buy carbon offsets and use a variety of marketplaces to both calculate, and offset, tier emissions. Choose options with third-party certification and with projects that are officially recognised.
There are a number of companies offering carbon-offset, here in the UK Climate Care is one such business.  ClimateCare helps organisations take responsibility for their climate impact by financing, developing and managing carbon reduction projects across the world.
Another UK business helping with environmental projects is ForestCarbon. The organisation has removed nearly three million tonnes of CO2 from the atmosphere through planting more than 13 million new trees since 2006. It also works to provide a host of other benefits to society, including flood mitigation, enhanced biodiversity and increased public access.
Sustainability isn't just a buzzword. The journey to becoming environmentally sustainable will be unique for each brand, but it's critical to start looking at what you can do as marketers to start the process.
Matt Bourn, Director of Communications at the Advertising Association, said: "Advertising's role is increasingly to promote behaviours that encourage sustainable consumption as entire industries shift their products and services to meet the changing demands of consumers and the green regulations of governments. 
"At its best, advertising is about helping businesses grow and, more and more, this will be around the promotion of sustainable lifestyles. The creative and strategic strengths of advertising must be applied as an accelerant for making vital lifestyle changes a reality." 
For some great examples of advertising campaigns from sustainable brands, check out this article  by Grace Finney at CreativeBrief.