Creative strategies for Facebook retargeting
Facebook retargeting ads is the platform's strongest asset, allowing advertisers to retarget anyone that has interacted on Facebook with their page or event, or off Facebook, on their website or app using the Facebook tracking pixel.
In this post, we take a closer look at why a Facebook retargeting strategy is a vital part of a paid social campaign and how advertisers can adapt to Apple's IOS 14.5 update.
Ecommerce has an abandonment rate of around 80% so for every 10 people who visit your website, eight of them leave without converting. Having spent time and money on new customer acquisition, retargeting helps you stay in front of those users to nurture them to purchase.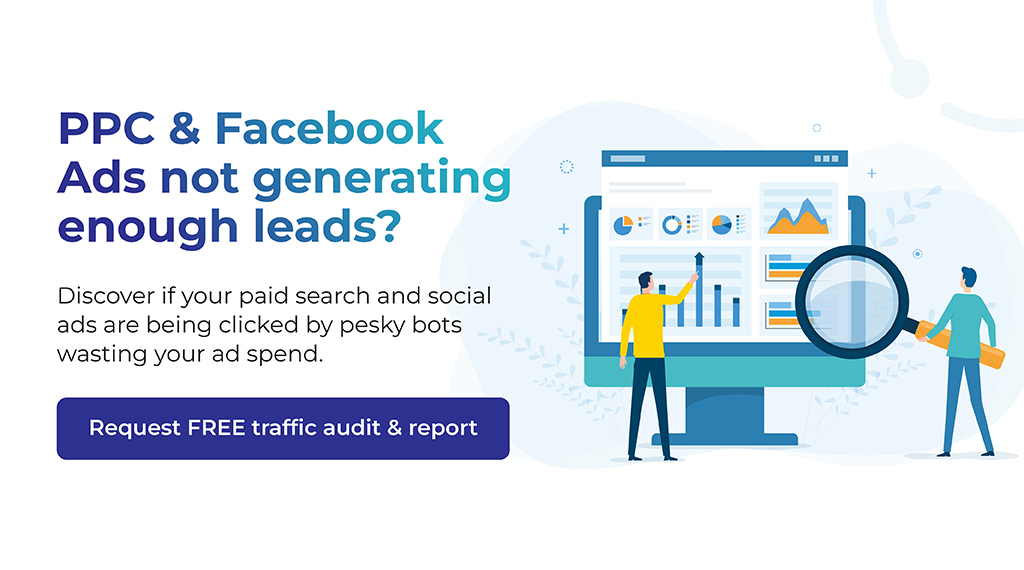 And it's not just in Ecommerce that Facebook retargeting works well. Once seen primarily as a B2C channel, Facebook ads now offer B2B marketers a way of keeping in front of buyers where sales journeys are getting more complex too. The average purchasing journey is now twice as long as it was six years ago.
It's clear that the path to conversion has multiplied over the years, with many, non-linear touchpoints back and forth across multiple devices. In this B2C case study, Google shows how a car-buying consumer had more than 900 digital interactions before making a final purchase.
It's simply not realistic to expect a buyer to convert on their first interaction with your brand. Would you get married on your first date? We think not.
Since users will only convert once they feel they know and trust a brand, Facebook retargeting is a win-win for both the customer and the brand.

How does Facebook retargeting work?
Facebook allows you to retarget people that originated on and off Facebook. The options are: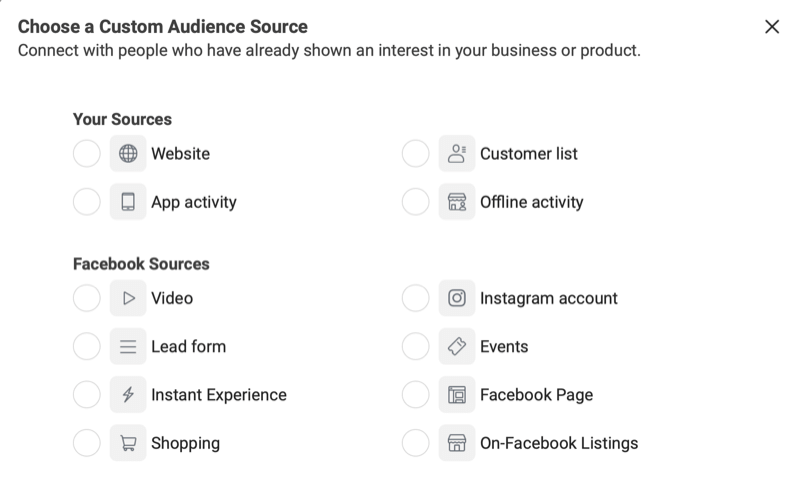 Facebook users 
This includes users who have previously visited your Facebook or Instagram page or engaged with your content by liking, commenting, sharing or clicking on it, and those who've visited or replied to a Facebook event page, or who have messaged you on Facebook Messenger.  
They've indicated that they are interested in your content so you don't need the Facebook Pixel to retarget them and this method of targeting is unaffected by the recent privacy changes brought about by IOS14.5, which we'll come to further on.
Customer list 
If you have a list with customer names, emails, and phone numbers – which includes the same data people use to create their Facebook or Instagram account – Facebook can find their Facebook account and create a custom audience which can be retargeted.
Website / app activity 
After installing the Facebook pixel, you'll be able to create custom audiences of users that visited your website.  As more conversions happen on your website, Facebook gets better at delivering your ads to people who are more likely to take certain actions.
This is an example of a Facebook retargeting ad shown to a user that added products to the cart and did not complete purchase on the advertiser's website:
What is the Facebook Pixel?
Essentially a piece of code for your website that lets you measure, optimise and build audiences for your Facebook advertising campaigns based on people's interactions with your website.
It works as a data-gathering tool that helps make the most of your ads across both Facebook and Instagram. Using cookies, it tracks users as they interact with your business and then places relevant ad content in front of them the next time they visit.
Using Facebook Pixel for your ad campaigns
If you have access to your website's code, you can add the Facebook Pixel yourself. Simply place the Facebook Pixel base code (what you see when you create your pixel) on all pages of your website. 
Then add events to the code on the conversion pages of your website, such as your add-to-basket page or your purchase page. You can use the event setup tool to add events and parameters without adding code. 
Events are conversion actions that people take on your website. Facebook currently records 17 different conversion events:
Purchase: Someone completes a purchase on your website.
Lead: Someone signs up for a trial or otherwise identifies themselves as a lead on your site.
Complete registration: Someone completes a registration form on your site, such as a subscription form.
Add payment info: Someone enters their payment information in the purchase process on your website.
Add to cart: Someone adds a product to their shopping cart on your site.
Add to wishlist: Someone adds a product to a wishlist on your site.
Initiate checkout: Someone starts the checkout process to buy something from your site.
Search: Someone uses the search function to look for something on your site.
View content: Someone lands on a specific page on your website.
Contact: Someone contacts your business.
Customise product: Someone selects a specific version of a product, such as choosing a certain color.
Donate: Someone makes a donation to your cause.
Find location: Someone searches for your business's physical location.
Schedule: Someone books an appointment at your business.
Start trial: Someone signs up for a free trial of your product.
Submit application: Someone applies for your product, service, or program, such as a credit card.
Subscribe: Someone subscribes to a paid product or service.
How does Apple's IOS 14.5 update impact Facebook retargeting?
Apple's new iOS 14.5 means Apple device users now have to actively give permission for Facebook, and other companies which sell mobile advertising, to use their data.
These changes shouldn't mean retargeting and remarketing are no longer part of your overall advertising plan. They still form an important part of it, however it's important to know how it impacts your Facebook retargeting strategy. 
Facebook pixel changes
Because of changes to third-party tracking in iOS 14.5, some Facebook pixel functionality will be disabled for updated Apple devices. Advertisers will be limited to just eight conversion events which can then be used for optimisation. They can be tracked from one Facebook Pixel or multiple pixels.
To allow for this change, Facebook has introduced its Aggregated Event Measurement tool, which will allow for measurement of web events from iOS 14.5 users. Facebook also has a guide for what advertisers can do to mitigate these changes.
There's still 80% of users on Android
Before everyone panics, The Statista Digital 2021 Global Overview Report highlights that only 14.7% of mobile Facebook users access the social network using iOS devices. 80.7% said they use an Android device, while 4.6% report using other operating systems. There are no privacy changes at present on Android so it's business as usual there.
Three creative strategies for Facebook retargeting
Virtual events 
Virtual Events are a great way to build an audience which can be used for retargeting. You can run both free, or paid, events including conferences, seminars, webinars, lectures, book launches. Essentially, anything which involves getting "people in seats", even if they're virtual ones.
They are very similar to a Facebook group in that everyone can post to an Event Page. But they also have advantages. You can use the admin posts to notify people using the "World Notification" option and you can also target inside an event page, something which isn't possible in a group.
Using an event page allows you to retarget anyone who has visited the page or has clicked Interested or Going on the Event options. Even if they subsequently fail to do so, they have demonstrated an interest in your business.
You can also retarget people who engage with posts on your event page. So if they've clicked, commented, liked, or shared any post or ad coming from your event page, Facebook lets you retarget them. 
If you post videos or stream Facebook Live video on your event page, you can retarget people who've watched 25%, 50%, 75%, or more of those videos. 
Using your email lists for retargeting on Facebook
As mentioned earlier, you can upload a customer list to Facebook to create a custom audience and run ads to that audience. This list could be prospects, people that downloaded content, active customers or lapsed customers that you want to re-engage. 
Generally, you can expect anywhere from 30-70% of the people on your list to match up with users on Facebook.  It all depends on the quality, accuracy, recency, and thoroughness of your list and crucially what email address was used by the user to create their Facebook account. 
You can also use the same list to build a "lookalike" audience and you only need to have 100 people on your audience list to be able to build a lookalike one.
This works by targeting people who share "traits" with your existing audience and you can instead create a custom audience based on time spent on your website or on visits to specific product pages.
How to create a lookalike audience
Similarity: Start by optimising your Lookalike Audience for Similarity, which will show your adverts to a smaller, more precise audience. Facebook will find the top 1% of people in your selected country who are most similar to your source audience.
Reach: Then, experiment with optimising your audience size for Reach, which will show your adverts to a larger audience. Facebook will find the top 10% of people on Facebook in your selected country who are most similar to your source audience.
You can further customise your audience by adding core Facebook targeting. For example, if you only want to reach people aged 34–64 living in a specified geographic location, choose the age and location options. 
Create a sales funnel 
Setting up a sales funnel is one of the most popular uses of retargeting on Facebook. 
When creating your ads, think about each stage of the funnel; top of funnel (TOFU), middle of funnel (MOFU) and bottom of funnel (BOFU) and the action that you want users to take. 
At the top of the funnel, the ads purpose is to create brand awareness, so a video is very effective. Remember the human brain is visual and advertisers that create custom visual content have a seven times higher conversion rate.
It takes about 50 milliseconds for a new site visitor to form a first impression.
The brain processes images 60,000X faster than text.
Social activity that contains visuals has 40x more shares than text-only.
Testimonials work well as middle of funnel ads to demonstrate that potential customers can have confidence in your business. Consider including user-generated content collected from your social media platforms or review sites. 
A lead magnet also works well – usually something you give away for free in exchange for an email address or other contact details – as a means of encouraging more investment in your brand. 
Bottom of funnel ads often include discounts for multiple purchases or money off coupons to be used in store or a loyalty card which prompts return visits.
The more steps you can get them to take down the funnel, the more likely you are to convert this into a sale.
Conclusion
Facebook retargeting ads aimed at warm audiences can yield higher ad engagement and conversion, all at a lower CPC than campaigns targeting cold audiences.
Facebook collects data whether you're using it or not so if you're not currently running any retargeting campaigns, it's never too late to start. You can look at past Facebook Standard Actions (those 17 events we listed earlier) and use them to establish your custom audiences. 
I hope this article will give you inspiration to get started or re-think your existing Facebook retargeting strategy. 
Get started with Veracity
Start your marketing campaign journey by having the best available data. At Veracity we've been champions of transparent marketing data since our foundation.
With click fraud detection and mitigation across search and social, Veracity feeds other parts of the Martech stack with better quality data, to enable improved analytics, decision-making and results.
See what Veracity can do for you or the brands you represent by watching a 4 minute demo video. Or calculate how much you might be losing on your paid media campaigns to click fraud with our click fraud Calculator.
NOTE: Updated March 2022.