UK Advertising Industry sets up AI Taskforce
The UK Advertising Association has set up a new AI taskforce which it hopes will map both the opportunities and risks which the technology poses for the industry. 
Meeting for the first time on September 26th, the intention behind the AI taskforce is to build a coordinated policy approach in recognition of the rapid need to establish ethical safeguards, as well as develop industry guidelines. 
The AI taskforce will also work with the Advertising Standards Authority (ASA) where appropriate to ensure that any use of AI in advertising campaigns is transparent and legal as well as truthful. 
Helmed by representatives from Google and ad agency VCCP, both of which are members of the trade association's Front Foot network, a coalition of leaders from within the UK advertising industry. The AI taskforce's stated aim is to maximise the potential and mitigate the risk of AI within the UK advertising industry. 
Google's Advertising Industry Relations Manager, EMEA, Yves Schwarzbart, and VCCP's Managing Partner and Head of Social Innovation, Alex Dalman, share the co-chairman roles. 
Stephen Woodford, CEO, Advertising Association, said: "The establishment of our AI Taskforce comes at a critical time for AI and its use, not just in the UK but in advertising around the world. The Taskforce will focus on the ethical usage of AI in advertising as well as helping develop the UK's role globally for AI's influence on marketing and advertising innovation.  
"This Taskforce draws from the strengths of our AA and Front Foot membership to include the best mix of senior technical, policy and legal experts across the advertiser, agency, platform, and media community." 
Konrad Shek, director of policy research at the Advertising Association and a member of the new taskforce, said: "The taskforce can be a trusted advisor to the UK government by recommending policy, developing the right narratives and presenting best-in-class case studies." 
"We want to help the UK provide leadership for AI in advertising and marketing on the global stage as the advertising industry grapples with this new technology around the world." 
The Taskforce will convene for a minimum twelve months, with plans to meet quarterly. 
Google introduces AI declaration for political ads
Google will soon require that political ads on its platforms let people know when images and audio have been created using artificial intelligence (AI). 
The rules have been created as a response to the "growing prevalence of tools that produce synthetic content", a Google spokesperson told the BBC. 
The change is scheduled for November, about a year ahead of the next US presidential election. 
Google's existing ad policies already ban manipulating digital media to deceive or mislead people about politics, social issues, or matters of public concern. 
But this update will require election-related ads to "prominently disclose" if they contain "synthetic content" that depicts real or realistic-looking people or events. 
Google suggested labels such as "this image does not depict real events" or "this video content was synthetically generated" will work as flags. The company already requires political ads to disclose who paid for them and makes information about the messages available in an online ads library. 
Back in July representatives from Amazon, Anthropic, Google, Inflection, Meta, Microsoft, and OpenAI joined US President Joe Biden to make an announcement to commit to managing risks posed by AI tech. 
As part of the agreement, the companies agreed to: 
Security testing of their AI systems by internal and external experts before their release;

 

Ensuring that people are able to spot AI by implementing watermarks;

 

Publicly reporting AI capabilities and limitations on a regular basis;

 

Researching the risks such as bias, discrimination and the invasion of privacy.

 
Government cracks down on AI
The UK has been leading the way on the issue of AI, both for positive outcomes and for ethical control, with the Prime Minister Rishi Sunak (pictured below) unveiling plans to turn the country into an epicentre for development.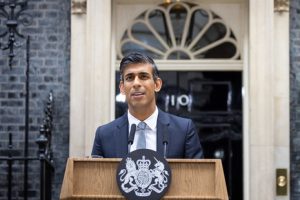 An AI Safety Summit, the first in the world, is also planned for later this year, at Bletchley Park. This will see world leaders meeting with AI companies and experts to try and build an international consensus on the future of AI. 
It will consider the risks of AI, especially at the frontier of development, and discuss how they can be mitigated through internationally coordinated action.  
Frontier AI models hold enormous potential to power economic growth, drive scientific progress and wider public benefits, while also posing potential safety risks if not developed responsibly. 
Mr Sunak said: "The UK has long been home to the transformative technologies of the future, so there is no better place to host the first ever global AI safety summit than at Bletchley Park this November. 
"To fully embrace the extraordinary opportunities of artificial intelligence, we must grip and tackle the risks to ensure it develops safely in the years ahead. 
"With the combined strength of our international partners, thriving AI industry and expert academic community, we can secure the rapid international action we need for the safe and responsible development of AI around the world," he added. 
The UK Government has already appointed an AI taskforce to work on how best to maximise the benefits and minimise the risks of this rapidly evolving tech and pledged £900m of public money over the next 10 years to help build a strong AI UK. 
Three US AI giants – OpenAI, Anthropic and Palantir – have all committed to opening London headquarters in the future. 
About Veracity Trust Network
Founded in 2016, Veracity was formed with one intention: to fight the rise of malicious bot activity. 
Our technology began life as a tool to intelligently detect click fraud and save money for businesses using online advertising. Once it became clear that our AI-powered detection engine could do even more, and protect people from legitimately dangerous bot attacks and compromised data, we developed Veracity Web Threat Protection.
Elegantly designed to mitigate everything from data theft attempts to advertising click fraud, our engine solves problems for multiple business functions. From security to finance, marketing to data analysis, customer experience and reputation management. 
It is award-winning technology* applicable to any business operating a website and works to block a wide range of bot attacks, preserving website performance, while optimising infrastructure costs and security resources.    
Start protecting your website and ad spend from bot attacks by booking a call now:  
https://veracitytrustnetwork.com/talk-to-us 
* Leeds Digital Festival Awards 2023 Tech Innovation of the Year, Digital City Awards 2022: Innovation of the Year, Best Business Awards 2022: Best Innovation, Best Martech Innovation at Prolific North Tech Awards 2021, B2B Marketing Expo Innovation Award for Best Marketing Tool 2021, and the Tech Nation Rising Stars 3.0 Cyber Award 2021, as well as holding Verified by TAG status.