Marketing analytics tools you need in 2021
Working from home has become the new norm for many and as Spring approaches with brighter days and hope of a return to normal, we've put together a guide to the marketing analytics tools you need to succeed in 2021.
Website Analytics
Still the most well-renowned marketing analytics tool, Google Analytics covers a multitude of options for marketers, with website audience data, behaviour on site, conversions and attribution. Google Analytics integrates with Google Ads which gives marketers access to campaign data.
You can create custom goals (20 per reporting view) which can be matched to micro and macro goal conversions such as content downloads, pageviews, add to cart and purchase.
Google Analytics is undeniably complex to learn. There are many dashboards, settings, user views and metrics to navigate and it can be tricky to find resources that explain how to use its features and for what purpose. 
Even though most marketing analytics tools use it, there are limitations to the cookie and pixel approach to collecting data. For example, this method fails to account for the fact than one device can be used by more than one person or that most people use more than one device during the research, and buying phase of the customer journey. 
Cookies are unable to accurately 'join' data generated by multiple sessions from one device, resulting in broken sessions data.
Ever wondered why so much traffic ends up in the 'direct' channel of your Google Analytics report? Some of it will be genuine direct traffic, but mostly, that's Google's fallback option for when Google when has no data on how the session arrived at your website, or when the referring source has been configured to be ignored.
Good For: A good marketing analytics tool for anyone working in digital marketing, but not to be solely relied upon.
Conversion Rate Optimisation Tools
When it comes to conversion rate optimisation (CRO), there are a few options but the ones favoured by Veracity's staff are Hotjar and VWO.
This CRO tool is used by Veracity's Digital Marketing Manager, Suzanne Trainer, to gain insight into website user behaviour. It provides heatmaps, clicks, session replays and funnel drop out.
"HotJar is incredibly easy to setup and interpret the data. You can set up heatmaps and visitors recordings in minutes. I find watching visitor sessions fascinating, but it's useful have a fast forward function especially as many users dwell on a page for a long time, probably whilst they're browsing other web pages or making a cup of tea!"

Suzanne Trainer, Veracity's Digital Marketing Manager
Hotjar offers two main tools: analysis and feedback. The analysis tools are designed to allow marketers to observe and measure user behaviour. Feedback tools include polls, surveys, incoming feedback and recruiters (used to recruit user testers).
Hotjar provides an all-in-one tool that can integrate with popular platforms like WordPress, Shopify, Squarespace, Weebly and HubSpot, as well as others.
Good For: Again, another good allrounder, especially if your website is new, or you've recently updated a webpage. It will help you understand the strengths and weaknesses of individual webpages.
Visual Website Optimizer is an A/B testing platform with a website conversion tool that focuses on data-driven testing and experimentation.
It offers a visual editor enabling you to easily create visual changes and test them one against the other. VWO aims to help you research how visitors behave once they're on your website, and lets you plan, and carry out, tests to increase engagement. Then test how well those measures worked. 
The major features it offers are AB testing and conversion optimisation and the website has a handy list of resources, ebooks and case studies to get you started on best practise.
Good For: Anyone who needs to test the effectiveness of their landing pages, content or conversion funnel.
Online Campaign Measurement
Obviously we're going to be blowing our own trumpets here but Veracity brings all your campaign data into one easy-to-use platform – from Google Ads, Social PPC and email marketing.
The platform allows you to instantly see all your marketing campaign website traffic from any online channel, produce attractive reports, and identify and combat bot clicks and fraudulent website traffic to help you optimise your campaigns for more human visitors. After all, its humans that buy, not bots!
Veracity analyses the behaviour of users that your various marketing channels send to your website, enabling you to see what campaigns are driving engaged users.
The Cost Per Visit (CPV) and Cost Per Lead (CPL) metrics gives marketers a true view of how their digital campaigns and channels are doing in terms of return on investment and the reporting feature gives you greater control, customisation and flexibility to quickly, and easily, create reports for you, your team, your clients or your boss. 
Veracity makes campaign management easy and our Return On Investment improvement calculator can help identify the money you're wasting from your ad spend on bot traffic and ad fraud.
Good For: Anyone wanting an accurate way of measuring and reporting on campaign performance. Veracity is especially valuable for PPC managers wanting a higher Return On Ad Spend (ROAS).
Social Media
Our social media posting platform of choice. Hootsuite is usually at the top of most recommended lists and that's for a very good reason.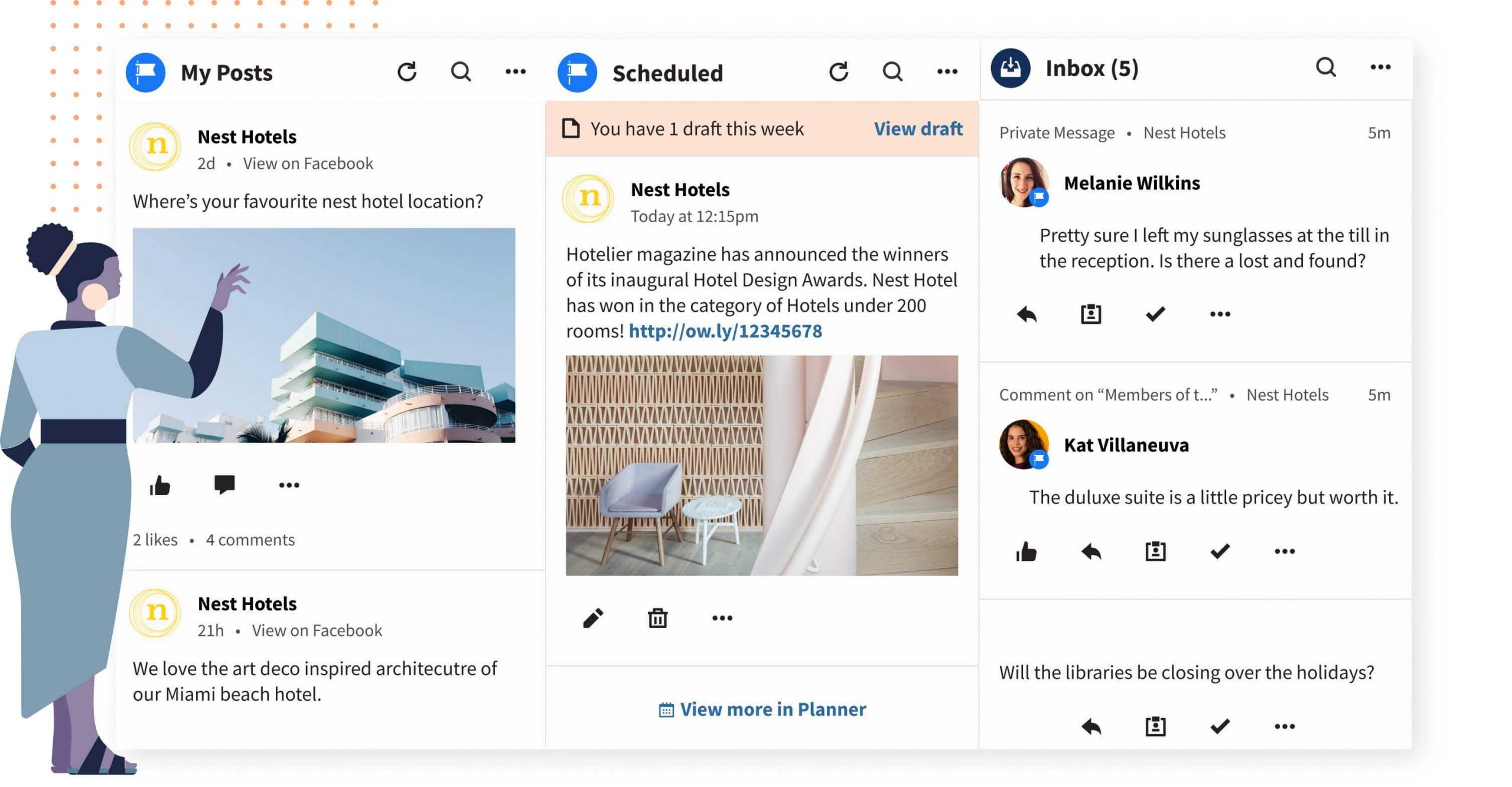 Karen Davies, Veracity's Social Media Manager, said: "We've tried a few other social scheduling platforms but haven't found anything to compare with Hootsuite. Coming back to it is like being in contact with an old friend, it's reassuringly familiar."
Hootsuite is easy and intuitive, it has key metrics for each social media channel and lets you create weekly detailed reports, including filtering conversations by keyword, hashtag or location. It also integrates with other platforms including Twitter, Facebook, LinkedIn and WordPress.
Good For: Any social media manager who posts to multiple platforms, needs to schedule in advance and wants social media analytics reports on key metrics like number of posts, follower growth and post engagement.
This allows you to monitor your brand across social media platforms and get data-driven insights for each one. This means you gain knowledge on what content works best for your brand on what platform and lets you enhance your social media strategy to create content to attract the right audience.
Its Social Media Analytics tool works with Facebook analytics, Twitter analytics, Instagram analytics, YouTube analytics, and Instagram Stories analytics. It helps marketers develop an in-depth understanding of who their brand or client audience is, what they're saying and how active they are.
IMAGE: Unbox's audience insight data
Good For: Anyone who wants to know how their brand is perceived on social media and for marketers who are looking at optimising directed audience content.
Search Engine Optimisation
This all-in-one tool suite is essential for improving online visibility and discovering marketing insights.
Its SEO options give users powerful insights into how their website is performing via top-rated keywords, business intelligence and online competitor analysis. The tools and reports available help marketers that work in the following services: SEO, PPC, SMM, Keyword Research, Competitive Research, PR, Content Marketing, Marketing Insights, Campaign Management.
Its website also has a superb knowledge base and resource section, open to all, which not only focuses on how to use the platform, but also has general advice and guidelines for digital marketing.
Good For: Everyone working in SEO. Having access to good organic performance data is invaluable no matter what sector you are in.
This is another all-in-one tool but focused specifically on SEO optimisation. It has Rank Tracker, a tool which shows you which keywords you are ranking for and on which pages.
Rank Active tracks your website performance in SERPs on all the major search engines.
Its website analytics options help you to gather and analyse data and give you insights into which areas you can improve to make your brand more visible. Integration with Google Analytics ensures that all data available to you are up to date and precise.
Competitor analysis is also available, as is a site auditor which scans for errors in your website and a brand monitor to collate mentions and online citations.
Good For: Any SEO or Digital Marketing Manager who is looking for an easy to use SEO platform.
Ecommerce
This little gem provides data insights which make it easy to improve KPIs with accurate tracking at every customer touch point.
You can connect Google Analytics with platforms including Shopify, and apps like ReCharge, as well as Facebook Ads, and also use it to automate your repetitive tasks, fix client tracking and get accurate data for ecommerce growth.
Its smart script ensures accurate data at every customer touch point, from marketing channels through to recurring transactions.
Good For: Everyone. Whether you're an eCommerce manager, an agency, a business owner or a web developer, Little Data has an option for data insights which will work.
B2B
A sometimes overlooked solution that lets you discover the characteristics of your website visitors. 
It provides valuable insights about your audience, including job roles, company name and industry marketplace. You can then use this to tailor your website content to make landing pages more appealing to your strongest prospects.
In addition, the information it provides is useful for when you're designing, or modifying, marketing strategies and gives you tools to measure the impact of your tactics.  The information you uncover about your website visitors can help you target qualified leads and prospects.
Good For: Anyone who wants to understand their website users for better persona development.
In Conclusion
There are hundreds of platforms, apps and tools available for digital marketers and social media managers. These are some of the tools used by the team here at Veracity which we feel bring valuable data insights for your business.